Got the brats off to school fine....
With minimal arguments....
That's a plus....
So i have lots of catching up to do :)
A week ago ( at least) Lori gave me an award :)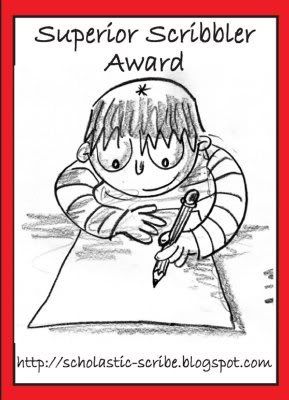 I am SO THRILLED :)
I have known Lori for a while and she is a doll...We bitch and moan to each other and sometimes hold each others hands via the keyboard :) and she is right! It is a dadgum good thing that we dont live in the same state cause our husbands would be out of their minds right about now...lol
I have to say that I started blogging in January 2005 in AOL's JLand..I have always kept a jounral of some type but never online...I started with AOL jounrals and was hooked...and I started because I needed a place write about my little brother...and just let it all out....without my mother who thinks everything should be kept inside...especially the details surrounding Chris' death...
I love to journal now...or blog now as it is called since I am over on Blogger...lol...It gives me an outlet...and lord knows I need one...
I am goign to give this award to a few people taht you may not all know but might love to read.. :)
Go check em out!
Here are the rules that I am COPY AND PASTING FROM LORI :)...cause i am a cheater like that...lol..
So here's the deal.
I need to post the award on my blog. Check.
Link back to
that sweet Country Girl that gave it to me
. Check, check.
Link back to
the originating post
. Check, check, check.
Pass it on to 5 deserving folks.
And . . .Post the rules for the recipients.
I know this is 6 BUT i could probably do 10 at least ..lol...as you can see from my blog roll I follow way too many :)