So Kadie decided she wanted to be blonde...and most of you have seen a picture of my beautiful daughter...SHE SO should not be blonde...But everyone is entitled to make a few mistakes and my child? she made one :) She asked Shellye to do it...Shellye said nope...not gonna mess up your hair...She asked Vette to do it...Vette said nope not gonna mess up your hair...She asked Cassey...Cassey waffled a bit and then finally said ok but I am SO not responsible when it turns out funky...and your parents have to say it is ok...Wayne said yes...I was on the fence..but hey again everyone is entitled one really bad hair situation...lesson learned....Kadie has beautiful straight dark brown hair...those of you who have to use a chi every morning would hate her and her gorgeous hair..Cassey bleached it...it turned every shade on the spectrum from yellow to orange all the way down her back with the top being bright funky yellow...she almost cried....We put the color on it? It turned orange....Now no school today so normally it would not have been that big of an issue...here is where the issue comes in...lol...I went to CVS on Saturday night to get auburn for my hair to cover my grey.... Got 6 of them because they were 2 for $5....I also got 8 shampoo and conditioners because they were on sale for 77 cents each.Anyway at the register the young man behind the counter (we go there alot!) asked me to give Kadie his phone number...she was babysitting for my brother...so the next day I told her that I had a phone number for her from said young man (Zac).She had already decided to be blonde...Kadie called him and left a voice mail...Meanwhile back in the kitchen.....Hair is not going well...She decides against blonde and decides to go red...we go BACK to CVS - her with 4 different colors in her hair - and GUESS who is working?Kadie went straight to the hair dye and I went to the counter to exchange what we had...I went to the hair dye and warned her that he was there with her looking like a rainbow head...and she said I want these two and SPRINTED out the door...She went so fast that the automatic door did not open until she put her hands on it and almost fell down (hehehehehe)....IN the meantime she had given me her cell number to give him...He was gone from counter...because he WENT OUTSIDE to talk to her...after much LAUGHTER...we got home....(we only live like 5 blocks away)...when we got home? he called her and asked her to go out with him tonight on a date....He is picking her up at 6:45 and they are goign to a movie and dinner....This story was SO funny to me? I wrote a song about it :)Please sing the song below to the tune of the Brady Bunch Theme Song (hehehehe)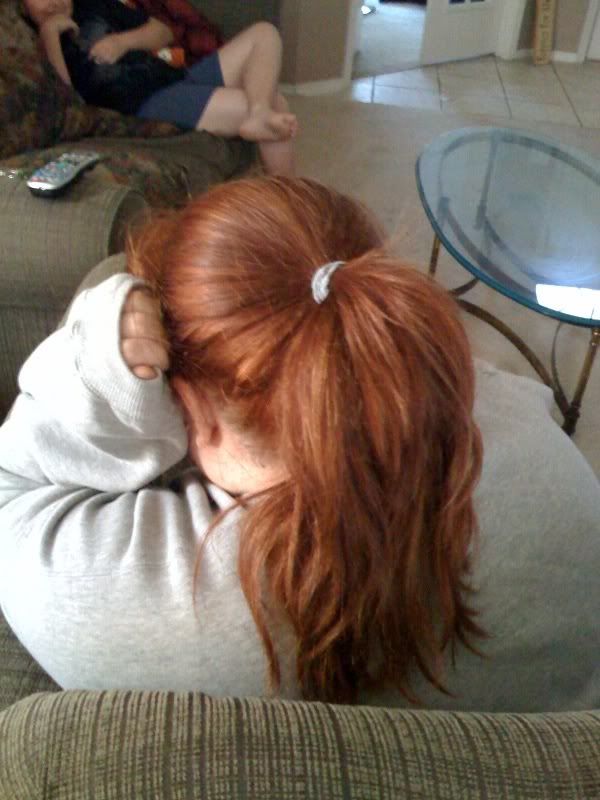 Here's the story of a girl named Kadie...
Who was considering the idea of going blonde....
Kadie was born with hair like chocolate, like her mother,
Only hers was straight.
Here's the story of a boy named Zac
Who was busy with his job at the drugstore -
He gave his number to Kadie's mother
On one of her trips there for shampoo..
Mom gave the number to Kadie
And she knew that Kadie would be thrilled..
And that these two would go out on a date
Thats how they came to a movie and dinner at 7 pm...
And Kadie almost had to go with orange hair...
That's the way we all became the orange haired fixers
The Lawrence Bunch.